It was planned as a Lent Course – our first one for the emerging English speaking congregation in Kreuzlingen. Yet on the eve of our first meeting, 16th of March, we all were confronted with the latest Federal advice to suspend all church services and meetings for the time being. It meant changing our plans overnight.

This space is launched to help us keep in touch. You will find here weekly inputs to the topics that should have been part of our course. Although they are still the same, the content has changed. For not only our church but the whole world had now switched to plan B in response to the coronavirus outbreak. Amid growing fear and uncertainty, what gives us hope?

The Scripture says, it is love that we have received – the love of God confirmed to us during our baptism. This is what conquers fear.

The Baptism of Jesus
Then Jesus came from Galilee to the Jordan to be baptized by John. But John tried to deter him, saying, "I need to be baptized by you, and do you come to me?" Jesus replied, "Let it be so now; it is proper for us to do this to fulfill all righteousness." Then John consented. As soon as Jesus was baptized, he went up out of the water. At that moment heaven was opened, and he saw the Spirit of God descending like a dove and alighting on him. And a voice from heaven said, "This is my Son, whom I love; with him I am well pleased."
(Matthew 3:13-17).
Changing Plans is Everything
Plans are nothing, changing plans is everything, say some management experts. But let's be honest: when it comes to it, how many of us like it, to find themselves in the midst of plan change?
I have just come back from our church trip to Israel. First time in the Holy Land, I was eager to explore it from A to Z, clinging to every letter on our travel program just as much as my camera lens. But a small infectious agent with the name claiming a "royal" connection began interfering with our plans from day one. Thus, we had to re-arrange our routes and re-book the hotels, skip some visits to the ancient cites and cancel the encounters with the locals. Finally, as we stood at the gates of Jericho, the news came that Palestinian authorities closed all the borders to their territories even before the Israelis have done so. We had to admit that we got stuck. Plan change.
When plan A fails, plan B can be an option. Who said that this is the second best? As we drove east of what could be the oldest city in the world, we found ourselves in the Jordan River Valley. A group of cheerful Americans stood on the riverbank while somebody in white clothes was getting slowly in the muddy waters. We were at Qasr el Yahud – the traditional site of the baptism of Jesus by John the Baptist. Plan B proved to be an excellent option!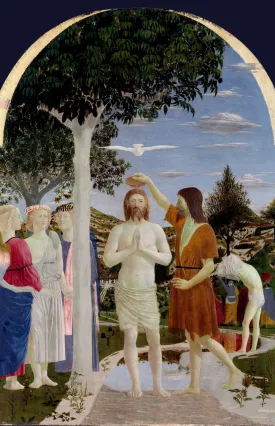 Piero della Francesca (1415-1492), The Baptism of Christ, National Gallery, London
I wonder if Piero della Francesca, an Italian Renaissance painter, had ever been at this site? And if he had done, would the water on his painting has been as clear and the grass as green?
Perhaps he would have rather gone for more palms than a walnut tree or more sand and stones than most tender flowers? And yet, from biblical perspective, it comes across to me as a realistic painting. For where the Son of God puts his foot, things start changing – from muddy to clean, from weathered to fresh, from dead to alive. This change is part of God's eternal plan of love. Fortunately, it is unchangeable. So,
may the peace of God,
which surpasses all understanding,
keep your hearts and minds
in the knowledge and love of God
and of his Son, our Lord Jesus Christ.

» Live Under the Blessing
by Henri Nouwen
Watch this space next Friday!